2023 Subaru Solterra vs Toyota bZ4X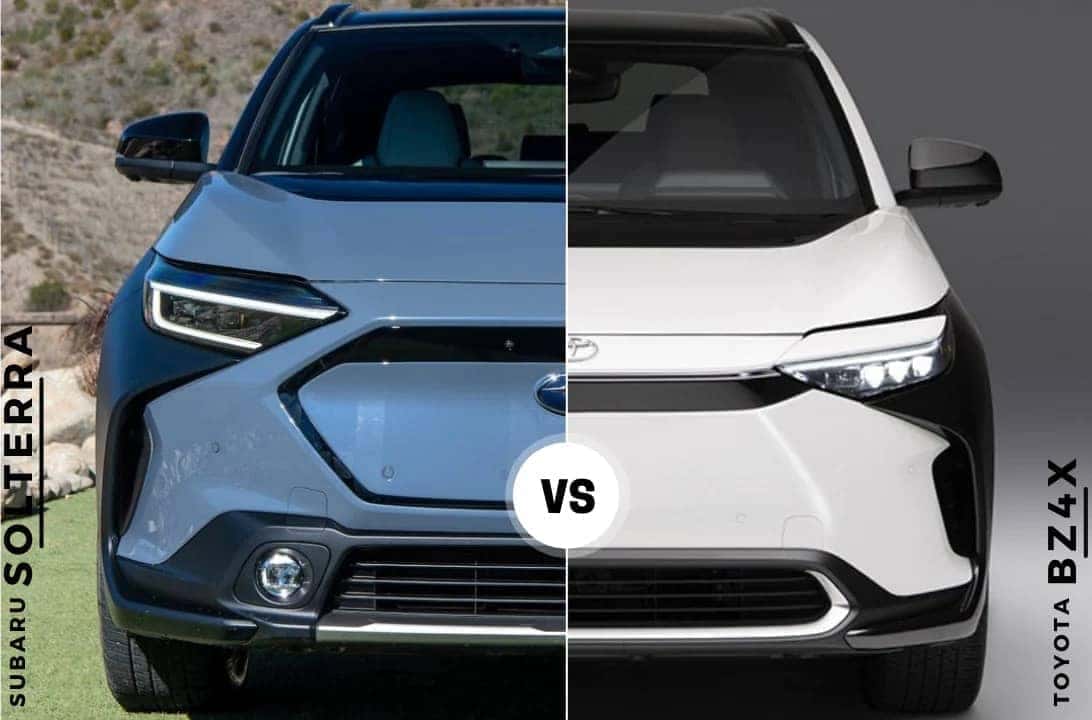 Before we jump into a comparison of the all-new battery electric vehicles offered by Subaru & Toyota, its important to have a brief understanding of the collaboration on the first globally launched all electric vehicle offered by each manufacturer.
Both companies have a vision for a cleaner and better future in mobility, aiming for complete carbon neutrality by 2050. Through friendly competition they each brought their strengths to the table for the most anticipated EV to date. By working with Toyota, Subaru was reminded what the Subaru brand was all about (as you'll see below). This helped form the Subaru Solterra, creating a truly amazing EV that was still, in essence, a Subaru. Watch this video if you want to learn more.
What are the differences between the Subaru Solterra and Toyota bZ4X?
2023 Toyota bZ4X BEV
Starting MSRP: $43,215
2 Trim Levels: XLE & Limited
Standard Front-Wheel Drive (FWD), Available All-Wheel Drive (AWD)
252-mile range with FWD, same range (228 miles) as Solterra when equipped with AWD
Optional Steering Yoke
Exclusive Elemental Silver Metallic exterior color
Painted Dark Gray Metallic exterior cladding
Toyota-like front end design
SofTex®/Fabric interior material, with Black or Light Gray color options
ToyotaCare complimentary maintenance covered for 2 years or 25,000 miles
2023 Subaru Solterra BEV
Starting MSRP: $44,995
3 Trim Levels: Premium, Touring, Limited
Standard Subaru Symmetrical All-Wheel Drive
Standard X-MODE with Grip Control. 4 driving modes: Eco, Normal, Power & X Mode
Class-leading 8.3 inches of ground clearance
Exclusive Harbor Mist Gray Pearl exterior color
Flat black exterior cladding
Subaru-like front end design with LED Foglights
StarTex® water & dirt resistant seat material, with Blue/Gray or Black color options
Standard Heated Seats
Keyless entry on all 5 doors
Adjustable Regenerative Braking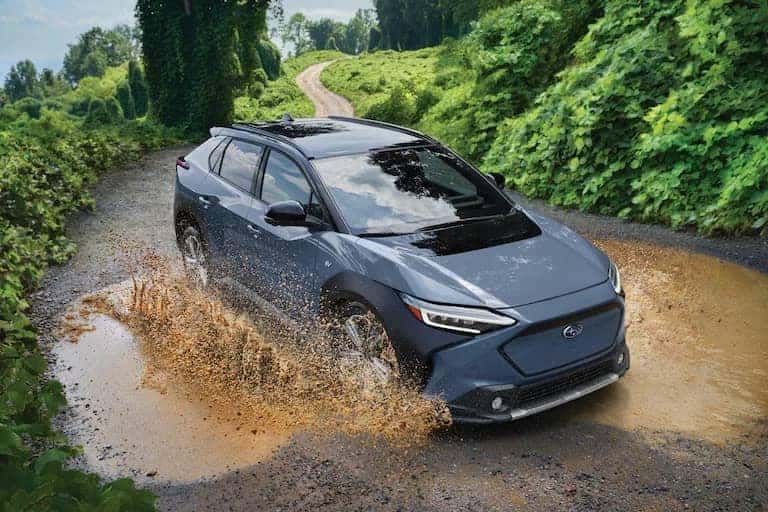 Solterra - Built For The Elements
Minnesota drivers and outdoor enthusiasts alike will likely prefer the Subaru Solterra for its host of standard features prepared to handle the wilderness and harsh elements.
The 2023 Subaru Solterra comes standard with AWD, X-Mode (used for getting through terrain such as deep snow or mud) and Grip Control (low speed cruise control for inclines), perfect for Woodbury and Inver Grove Heights drivers. Combined with 8.3" of ground clearance and LED Foglights, the Solterra will get you out of any sticky situation you may be in.
Inside the Solterra, StarTex® seating material is dirt and water resistant making it perfect for outdoor activities near St. Paul, MN. Of course, standard heated seats are always appreciated in the cold Midwest.
Keyless Entry on all 5 doors and Adjustable Regenerative Braking are exclusive to the Subaru Solterra.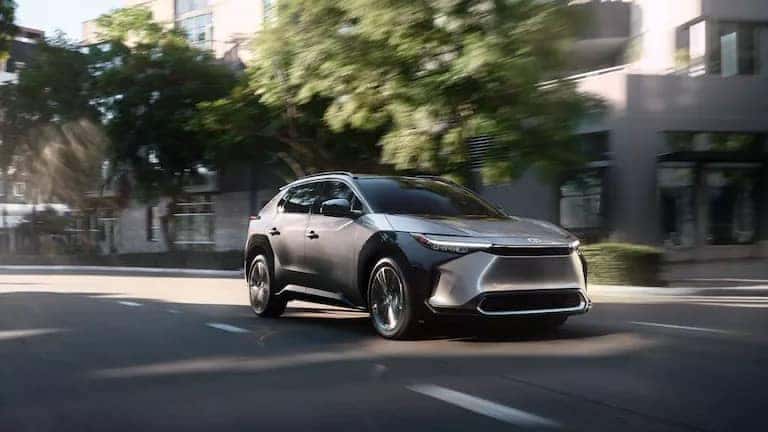 bZ4X - Practical & Refined
Those commuting to Minneapolis, MN and prioritizing practicality versus capability will appreciate the Toyota bZ4X.
If you have range anxiety FWD is available, extending the range on the bZ4X to 252 miles before needing a charge.
The Toyota bZ4X has a more refined appearance compared to the Subaru Solterra. Electric Vehicle SUV shoppers in Bloomington, MN may gravitate towards the bZ4X thanks to its sleek front-end design and painted exterior cladding.
Inside the bZ4X, SofTex seating material is comfortable and durable against fading, cracks and rips. An optional Steering Yoke, similar to a steering wheel you would find in a Tesla, is available only on the bZ4X.
Lastly, the 2023 Toyota bZ4X is said to come with ToyotaCare, free maintenance for 2yrs/25,000miles, to add to its practicality nature.
While the Subaru Solterra and Toyota bZ4X plug-in electric vehicles share the same bones they couldn't be more different when you look at the fine details. Both subcompact crossover EV's were built with their brands target audience in mind; Subaru, prioritizing off-road capability and a purpose built vehicle; Toyota, with a more practical and point A to point B vehicle.
What colors are available for the Subaru Solterra and Toyota bZ4X?
2023 Toyota bZ4X Exterior Colors
Black
Heavy Metal
Elemental Silver Metallic
Supersonic Red
Wind Chill Pearl
2023 Subaru Solterra Exterior Colors
Galactic Black
Smoked Carbon
Harbor Mist Gray Pearl
Elemental Red Pearl
Cosmic White Pearl
The colors offered by Subaru and Toyota appear to be the same colors, but with different naming conventions and varying levels of metallic and pearl finishes. For example, Smoked Carbon = Heavy Metal, and Elemental Red Pearl = Supersonic Red but with a pearl finish. However, Harbor Mist Gray Pearl is only offered on the Subaru Solterra and Elemental Silver Metallic is only available on the Toyota bZ4X.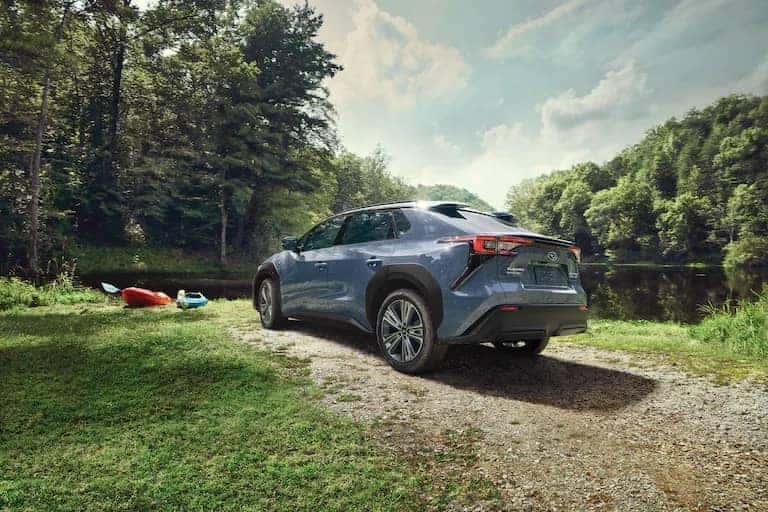 Premium Color Options
Solterra EV is available with all new visually striking exterior paint schemes, which include premium paint options and the Touring trim levels 2-tone paint.
Galactic Black and Smoked Carbon are standard colors for the Solterra and come free of charge. Harbor Mist Gray Pearl, Elemental Red Pearl and Cosmic White Pearl come at a cost of $395 - add the 2-tone paint to these premium colors for a total of $890. The 2-tone exterior paint is available on Smoked Carbon for just $495.
Choosing the Subaru Solterra Touring unlocks the option of the attractive two-tone paint option, which coats the upper portion of the vehicle in Galactic Black.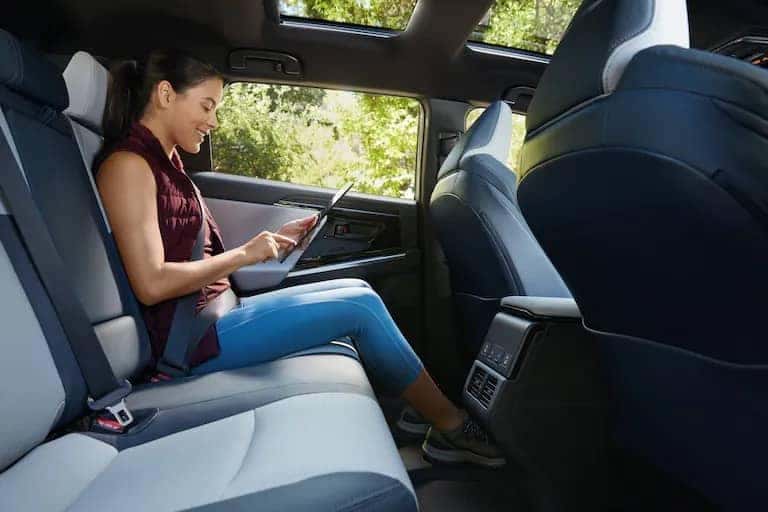 Interior Colors & Materials
To further differentiate the 2023 Solterra and bZ4X electric SUV's, unique colors and materials are offered on the interior.
The 2023 Subaru Solterra EV offers the option of having either a Blue and Gray or Black color interior. This is offered in the StarTex® dirt and water resistant material, which is similarly found on the Outback Wilderness and Forester Wilderness Edition models.
The 2023 Toyota bZ4X interior comes in either Light Gray or Black configurations. From what we can tell it looks like the only option for material is a cloth and SofTex® mix, making the bZ4X not as resilient to liquids, dirt and stains as the Solterra. SofTex® is a synthetic leather that is durable and easy to clean.
Interested in learning more or placing your order for the 2023 Subaru Solterra BEV?
Fill out the form below and one of our dedicated Customer Specialists will reach out to you shortly!